今年も作りました、太巻き。
わが家の特徴は、、、
みんなが大好きなだし巻き卵が大きな範囲を占めているところ。
残った分は大谷哲也作コンテイナーにしまい込んで次の日のお昼にパクリ!
                                 桃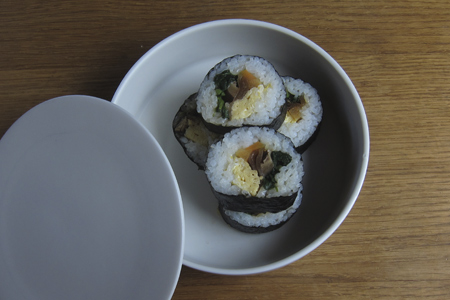 We make/eat Futomaki, or fat roll sushi, on Feb. 3rd,
the day so-called the 1st day of spring.
Eating sushi, and scatter soybeans shouting,
"Fortune in, devils out!" is what many people here do on the day.
However, it's said that eating sushi part is a recent addition.
They say it was intentionally added by sushi restaurant owners' cooperative,
or sea weed farmers' cooperative....
Anyway, whatever the origin is, 
we all love Futomaki, and enjoy making and eating delicious meal;)