ある小春日和の日曜日。
スコップ片手に一生懸命何かに取り組む娘2号&3号。
なにやってるのかと近寄ってみると....
On an Indian summer Sunday.
Our daughters looked very busy holding a trowel and a shovel in each hand.
I went close to see what's going on??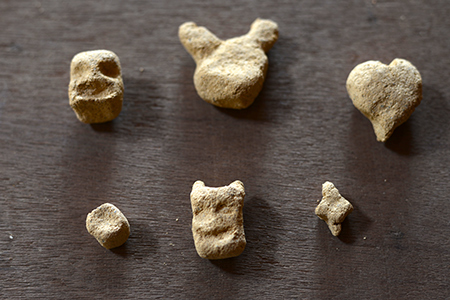 すると家の周りの土手の土を掘ってこんなもの作っていました!
こうゆうのを蛙の子は蛙というんでしょうか.....
どうやら「ネバネバして作りやすい土(=粘土)がある所」も探し当てているらしい。
すっかり乾いたらアルミホイルで包んで薪ストーブで焼く予定です。
Surprise!
These are some creatures they made out of  "sticky mud", they call, 
which is CLAY! they dug around the house whole afternoon.
They said they found a place where the best "sticky mud" is!
(Tell me where)
The apple never falls far from the tree....
We say in Japan, "frogs' children are frogs".
They are natural born potters!