今日はほんとによく働いてもうクタクタ!
そんな日はおいしい夕食とちょっとお酒で締めくくりたいもの。
でももしもあなたがその夕食を仕事上がりに作らなければならなかったら?
さっと作ってすっとテーブルにつけるヒントを少し。
When you have an extremely busy day,
you want to come home right after the job done, 
and end your day with a nice dinner and a glass of wine.
But if you are the one who have to prepare the dinner??
Here are some hints to get over it very easily and simply.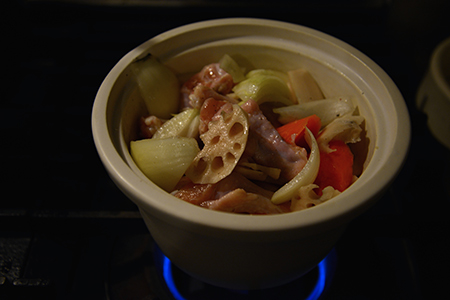 下味をつけておいた塊のお肉、トリでもブタでも、と大きめに切った野菜、
ダイコン、レンコン、ニンジン、タマネギ、おうちにあるものなんでも、
を平鍋で軽く油がまわる程度に炒めて....
Lightly stir fry medium sized chunks of meat, seasoned with salt and pepper, 
or any kind of herbs you like, with vegetables you can find in your kitchen,
daikon radish, carrots, onions, potatoes, lotus roots, cut into chunks...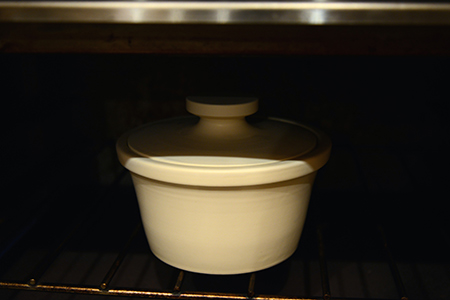 フタをし(アルミホイルでも)250℃のオーブンで焼くこと20~30分
Covered the pan with a lid, or aluminum foil, place in the oven 250℃, 
and let itself cook for 20~30minutes till the veggies become tender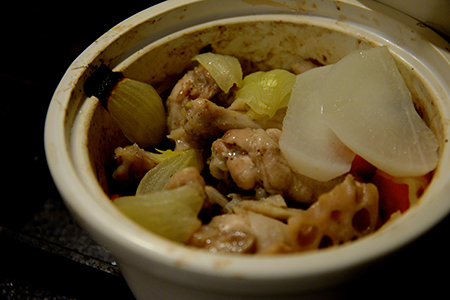 簡単なサラダやスープを準備している間に出来上がりましたるは
ほくほく野菜と柔らかお肉のポットロースト
A golden dish, pot roasted chicken and vegetables is done 
while you are fixing a simple salad or soup.
Bring some nice cheese and a bottle of wine on the table, 
then you are all set.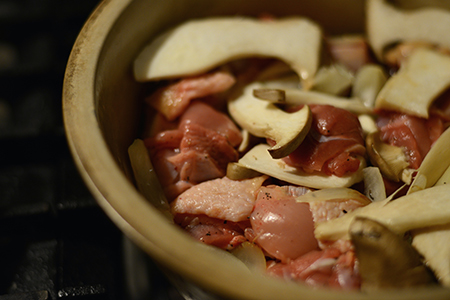 こちらは朝、仕事の前に塩こしょうで下味をつけておいたトリ肉、
キノコ、タマネギを軽く炒め....
Another variation, chicken breast, mushrooms, onions, stir fry in the pan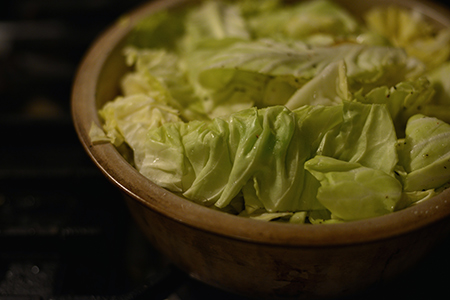 キャベツで覆いアルミホイルをかぶせて同様にオーブンへ
Covered with a lot of cabbage and bake in the oven in the same way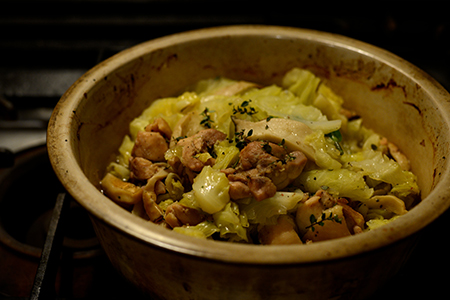 今日も無事一日が終わりました。乾杯!
The end of a nice day, and the beginning of another nice day. Cheers!