窓辺に見慣れぬアレンジメントが。。。
子供たちが遊んでいる間に集めた木の実がてっちゃんのおちょこに飾られていました。
私ならこんな風に生けないけれど、、、
口の開いたちょこにとても素敵に収まっていてなんだか嬉しくなりました。
何気ない日常に幸せを感じる瞬間。                    
                                                                                                             桃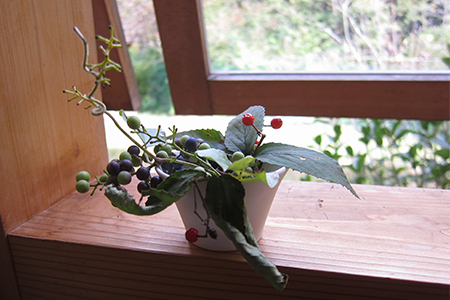 I found an unfamiliar flower arrangement by the window the other day.
(I usually arrange all flowers in the house.)
It was by our daughters.
Putting tiny berries in Tetsuya's sake cup is an idea I'd never come up with.
But it looked surprisingly nice, and truly did touch my sense of beauty.
Sometimes, a small incident like this can make our ordinary days very special.
I love this kind of "magic".                                                             
                                                                                                          Momo